Our Founder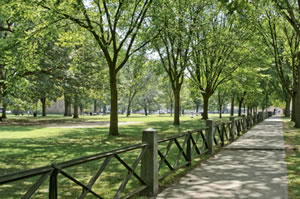 The Newmyer Organization is controlled and managed by A. G. Newmyer III, who is known as "Terry."  A native of Washington, he is a graduate of Phillips Academy, Andover, and of Yale College (B.A., 1971).
Following graduation, Terry was active in real estate before spending twenty years at Newmyer Associates, Inc., a consulting firm based in Washington.  The firm served a limited number of corporate clients with information and strategy services focused on legislative and regulatory developments at the national level.  Clients included Exxon, Citigroup, IBM, AT&T, Ford, CBS, Gillette, KPMG, and others.  Terry sold the business in 1992 to a group of investors headed by Hon. Frank Carlucci, former Secretary of Defense and chairman of The Carlyle Group.
He opened his own office in Washington, a predecessor of The Newmyer Organization, to focus on consulting, investments, and philanthropy.  In the late 1990's, Terry founded U. S. Fiduciary Advisors, LLC, a network of seasoned individuals willing to serve as trustee.  He sold USFid but continues to run its Florida operations.
Terry was a founding director of Thornburg Limited Term Municipal Fund, a multi-billion dollar bond fund, and served on the board for twenty years.  He has served on the boards of many closely-held companies.
In the nonprofit arena, Terry is proud of his work decades ago as founding chairman of the Parents League of the United States, dedicated to reducing the incidence of non-familial child abuse; and as chairman of the Fair Care Foundation, a patient advocacy group.  His service on a number of nonprofit boards includes twenty years at The Epilepsy Foundation and its Florida affiliate organization.
Terry lives in Florida and Maine.  He has four delightful children.